Josh Berk is the author of the teen novels The Dark Days of Hamburger Halpin (named a best book for teens of 2010 by Kirkus Reviews & Amazon.com) and Guy Langman: Crime Scene Proscrastinator (2012) as well as the middle grade mysteries Strike Three You're Dead and Say It Ain't So. Coming soon: the horror/comedy CAMP MURDERFACE series co-written with Saundra Mitchell.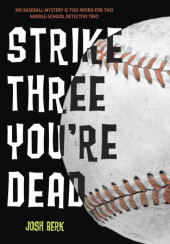 Q: Hey Josh where do you live?
A: Bethlehem, Pennsylvania
Q: Can you tell us more about your books?
A: Sure, in 2010 The Dark Days of Hamburger Halpin was a named "best book of the year" in 2010 by Kirkus Reviews and Amazon.com. It was also awarded a Parent's Choice Silver medal, a starred review from School Library Journal, and a perfect 10 from VOYA! Guy Langman: Crime Scene Procrastinator did not win any awards, which I think we can all agree is the real crime. Strike Three, You're Dead was nominated for an Edgar Award by the Mystery Writers of America! Mostly I've written mysteries for kids and teens with lots of jokes. I love jokes!
Q: Can you tell me more things for my school report/article/creepy dossier I'm keeping on you?
A: Sure! I'm a librarian. I like comedy and baseball and dogs. Um, I'm pretty tall? Okay kind of tall. Like, a little above average. I host a TV show. There's a Wikipedia page for more. Also, ask Siri!